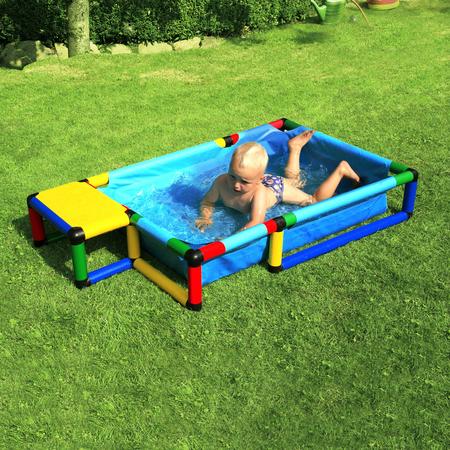 The QUADRO POOL S is a smaller pool in our range, ideal for tots and toddlers. The thick and fiber-reinforced pool film comes from the professional sector and can be used over many years. Of course, you can also combine the QUADRO POOL S with a QUADRO climbing frame.
In addition to water, the QUADRO POOLS can also be used as a ball pit and sand pit, providing your child their first experiences with water, sand and balls! Combinations with the QUADRO POOL S can be found in the QUADRO Model Database.
The QUADRO POOL S cannot be combined with the QUADRO slides; this is only possible with the QUADRO POOL L (11670) and QUADRO POOL XXL (11680). However, you can combine it  with a QUADRO ULTIMATE and get a mini pool slide model.
Like all QUADRO pools, the S version has a drain valve to let the water out of the pool easily.
Details
External dimensions: 145 x 85 x 25 cm
Internal dimensions: 125 x 85 x 25 cm
Water level: max. 20 cm
Ball capacity (Ø 60 mm): max. 500 (1x 12600)
Age recommendation: 12 to 36 months
Easy to assemble/disassemble
UV Stabilised / UV Resistant
Environmentally friendly / recyclable
Made in Germany
Includes
Construction Handbook
Safety Instructions / Tips
Safety
Use under the direct supervision of an adult
Caution: There is a risk of drowning
Caution: While disassembled, small pieces can be a choking hazard to children under 3 years
Pool should be emptied when not in use
Free of PVC, BPA and PAH
No short-chain chlorinated paraffins (SCCPs), heavy metals (Pb, Cd)